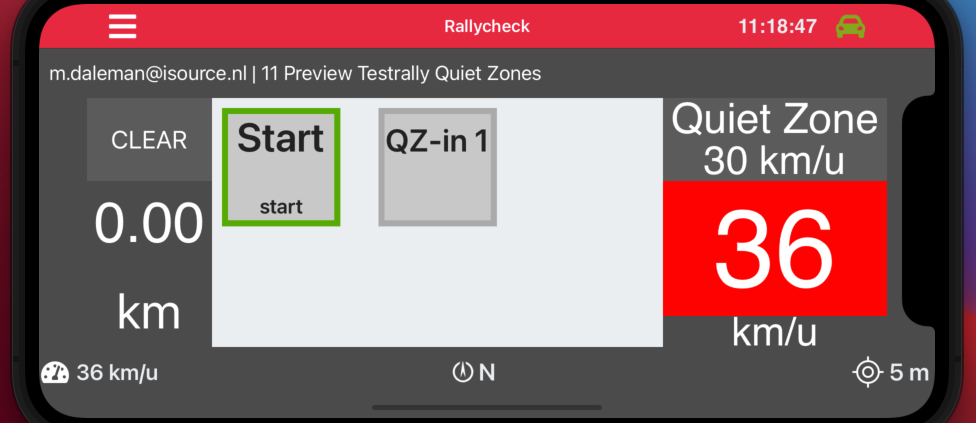 Rallycheck has added an innovative new feature to the app: Quiet Zones
A Quiet Zone is a portion of the route where participants must drive slowly in order to not disturb the surroundings. This can be a small village, a farm or some other situation where it is warranted to make sure the participants drive slowly.
When entering a Quiet Zone, the participants receive a message on the screen. In the Rallycheck app, the Quiet Zone speed limit is displayed. The current speed of the competitor is also visible.
When driving over the Quiet Zone speed limit, a warning is show on the screen. For the first 5% over the speed limit the actual speed blinks orange.
When driving more than 5% to fast in a quiet zone, the actual speed blinks red.
Speed penalties
If a participants exceeds the speed limit by more than 10% during a continuous period of 5 seconds or more, a speed penalty will be incurred. The calculation of the speed penalty depends on the chosen type of penalty and can be set by the rally organization.
Information for rally organizers:
There are two new Control types,
QZ-ENTRY  where a quiet zone speed can be defined.
QZ-EXIT      the end of a quiet zone.
A rally organizer can set up multiple QZ-ENTRY controls in succession, thus enabling the change of the maximum allowed quiet zone speed limit per section of a quiet zone.
The end of a quiet zone is marked by the QZ-EXIT control.
In order to prevent participants remaining in the quiet zone indefinitely (when they have missed the QZ-Exit), a rally organization can also set the maximum time for the quiet zone. After a set amount of time, the quiet zone automatically ends.
https://rallycheck.com/wp-content/uploads/2022/02/GetImageAttachment-1.png
490
976
Rallycheck isource
https://rallycheck.com/wp-content/uploads/2018/11/rallycheck-300x64.png
Rallycheck isource
2022-02-28 11:41:21
2022-12-29 09:09:53
Quiet Zone speed checks